| | |
| --- | --- |
| JJK-E46 | 04-28-2002 08:25 PM |
---
Question for Rob@UUC or anyone else

What is the muffler tip size in diameter for the UUC system U and TSE? I was hoping my system U would have bigger tips but it looks very similar to factory size tips.
| | |
| --- | --- |
| Rob Levinson * UUC Motorwerks | 04-28-2002 10:14 PM |
---
3" / 76mm

If you are talking about the current TSE, the tips are 3" (76mm) each, either round or Deutsche Tourenwagen Meisterschafft-style.
These are effectively the largest tips you can fit in the bumper opening.
Round: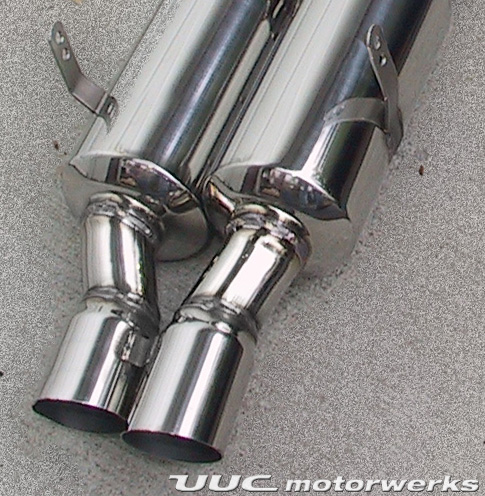 DTM: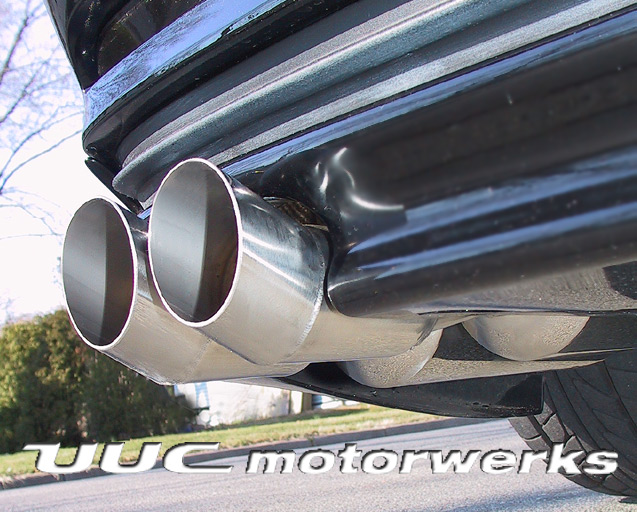 If you have an original 328/323 Sys*U exhaust, the tips are indeed smaller... larger than early factory tips, roughly the same as later tips. Note that the original Sys*U for 328/323 is discontinued and replaced by the new Sys*U-TSE version. If your exhaust is a sinle large silencer then it is the early version... which do you have?
- Rob
| | |
| --- | --- |
| JJK-E46 | 04-28-2002 11:22 PM |
---
Rob

I have the 1 large silencer. I guess it's the one that was a discontinued model. I'll try and sell this one so I can get the TSE. I HOPE i can sell it. :)

But thanks for your immediate reply!!!
All times are GMT -5. The time now is

10:04 PM

.
Powered by vBulletin® Version 3.8.7
Copyright ©2000 - 2017, vBulletin Solutions, Inc.
(c) 1999 - 2016 performanceIX Inc - privacy policy - terms of use