03 E46 Sedan parts needed
---
Need pricing on alot of parts for rebuilding an E46 facelift sedan:
Seeking sponsor able to provide most parts.

Front end damage. Extensive list can be found if you search around the forums.

CF GTR hood- replacement for Vorsteiner double sided CF hood
CF Grill or body color kidney grill
Coilover kit with mounts- replacement for Koni's
Mtech 2 front bumper and all brackets
Front end crash bar.
Reiger Front lip spoiler
Mtech 2 rear bumper w/ CF insert
Headlights- Bi-xenon
6000K bulbs
Projector fogs
6000K HID KIT for fogs (must be compatible with projector fog housing)
Halos- special order blue/white combination
Smoked LED Corners
Smoked Sidemarkers
Entire Cooling system
Driver's side front fender (currently searching bmrparts.com)
Intake- pre-MAF all the way thru.
Possible control arms and bushings
Rotors and pads, SSL
pair CF Fender flares (rear fenders) (not a necessity)
AC Schnitzer mirrors (not a necessity)
ACS rear roof spoiler.
Remus Exhaust (quad) (not a necessity)
Wheels (not really sure on models yet) Size 19x8.5 front 19x9.5 rear
BBK- not a necessity

Needless to say but the sponsor whom can provide most/all of the parts @ the best deal will get the sale. No b.s. on a deadline.

Pictures provided only upon request to get a visual on damage. Thanks for the assistance.
__________________
-
If you look up your nothing close to the rich but if you look down, your way better off than the poor
- Yellowmann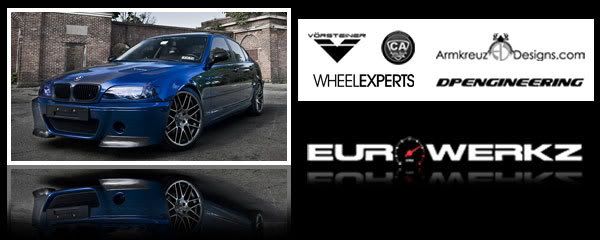 Get your Calendar/Poster here:
http://stores.lulu.com/bimmercalendars
Release thread:
http://forum.e46fanatics.com/showthread.php?p=7663111