What:
BMW cruise, show, dyno, autoslalom, lapping fesival
When:
Sunday August 26th, 2012
__________
Autoslalom
-9am-1pm
__________
Cruise Depart
- 10am
__________
Show & Shine
-12pm-5pm
__________
Lapping
- 1pm-5pm
Where:
Cruise Depart
- Serpa BMW (Newmarket)
_______
Show, Autoslalom, Lapping
- Mosport DDT
Cost:
Parking & Admission
-
FREE!
_______
Show & Shine Competition
- $40.00
_______
Autoslalom
- $50.00/$60.00
_______
Open Lapping
- $50.00/$60.00
_______
Autoslalom & Lapping
- $100.00/$120.00
_______
Dyno Testing
- $80.00 (3x pulls)
More Info:
maXbimmer and Bimmercruise would like to invite everyone to our 12th annual BMW
car show on
Sunday August 26, 2012
(rain or shine). Location has changed this year to
Canadian Tire Motorsports Park – Mosport (Driver Development Track) -
Spectator admission and parking is
free
, show cars competing for prizes and/or trophies
will be charged
$40.00
10:00am morning-cruise departure info below, Show & Shine
begins @12noon, trophy ceremony scheduled for 5pm.
Mobile dyno scheduled for HP/TQ testing (1st come basis)
$80.00 for 3 pulls.
Hope to see everyone there! For more info, visit
www.bimmercruise.com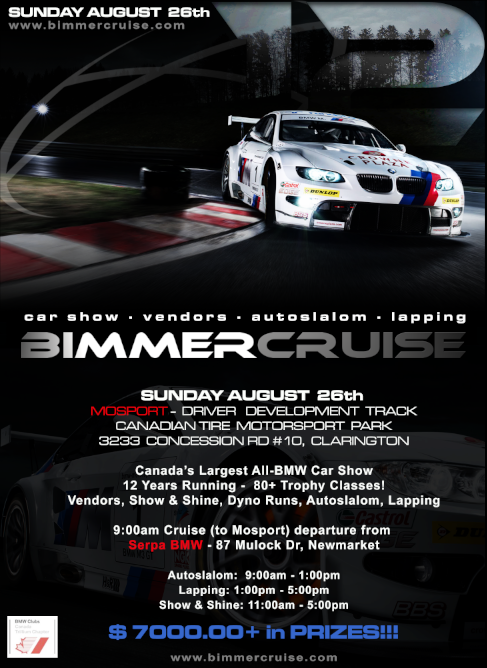 6:00am PRE-CRUISE Breakfast HAMILTON info
CLICK HERE
.
Official Cruise
will depart at 10:00am sharp! Meeting location for the official cruise is the parking lot for
Serpa BMW, 87 Mulock Dr, Newmarket, ON
***8206; (Formerly Open Road BMW). Location map below.
Coffee, Donuts & Cruise-route maps will be available there before departure. Bring an FRS walkie-talkie
if you have one. The cruise will finish at the show grounds (Mosport DDT) around 12:00 noon.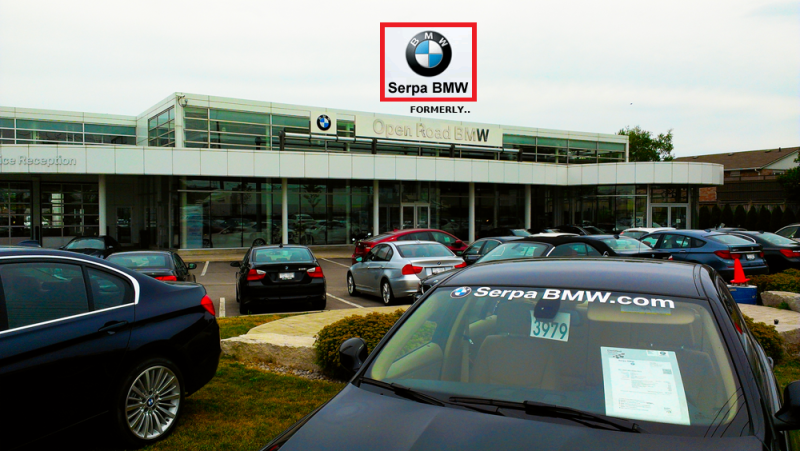 Autoslalom
is sponsored by BMW Clubs Canada -Trillium Chapter and will start at 9:00am SHARP!
Driver's meeting @8:30am, track walk @8:00am. Registration opens @7:30am.
Cost is $50/competitor (Trillium and CASC members) $60 (non-members)
which includes
5-7 runs. Open lapping afterwards is an additional fee. The course will be on the Driver Development Track
which allows novice drivers a fair chance to get competitive results without becoming confused with a
parking lot full of cones. Non-BMW cars welcome (Autoslalom & lapping only). An exception was made
for this event where competitors can join throughout the day, but will be limited to the number
of runs depending on volume and time of day. DOT/SAE helmets required (loaners available).
Open Lapping
will begin after the Autoslalom competition at approximately 1:00pm and end at
5:00pm allowing for four (4) x 30minute sessions.
Cost is $50/driver for Trillium members,
$60/driver for non-members.
Non-BMW cars welcome. DOT/SAE helmets required (loaners available).
This year we are very happy to announce over $7000.00 in prizes for
raffles and competitors, thanks to our title sponsor
Serpa BMW
.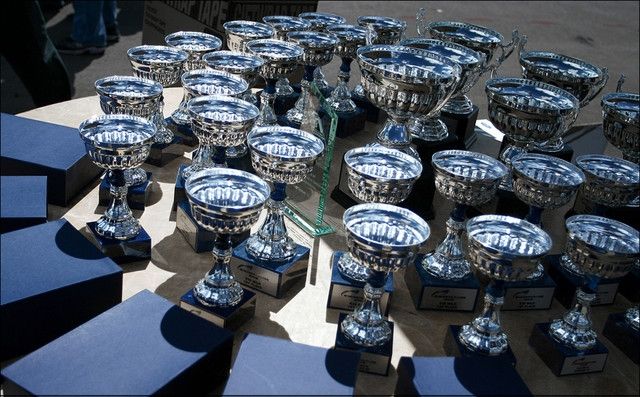 2012 Trophy Classes:
BEST OF SHOW
_________________
BEST INTERIOR
BEST ENGINE
BEST EXTERIOR
BEST I.C.E.
BEST WHEELS
RAREST RIDE
BEST STANCE
DYNO KING
______________
Z-SERIES
VINTAGE CLASS
SAV CLASS
6-SERIES CLASS
7-SERIES CLASS
E28 CLASS
E34 CLASS
E39 CLASS
E39 M5 CLASS
E30 CLASS MILD
E30 CLASS WILD
E36 CLASS
E36 M3 CLASS
E46 CLASS
E46 M3 CLASS
E60 CLASS
E8x CLASS
E9x CLASS
E9x M3 CLASS
F30 Class