[turb0mike] E90 Build and Blu's Introduction!!! <TONS O' PICS>
---
Hello e46fanatics, my name is Mike and I am over on e90post and decided I should broaden my horizons to other forums. I'm good friends with MrAdam (some of you probably know). I have a 2010 e90 335i that I track quite frequently and have been constantly improving since she had 4 miles on the clock. I know there is a big track following on this forum so here goes. Thanks for looking and hopefully it is something new for you guys!

How she sat for Bimmerfest this past Saturday:


Some older shots & a video (before Vargas turbos):
Only had 330whp at 16psi and almost bald Falkens for this track event and pulled low 2:00 my first time at buttonwillow...

Infield at Fontana:
[u2b]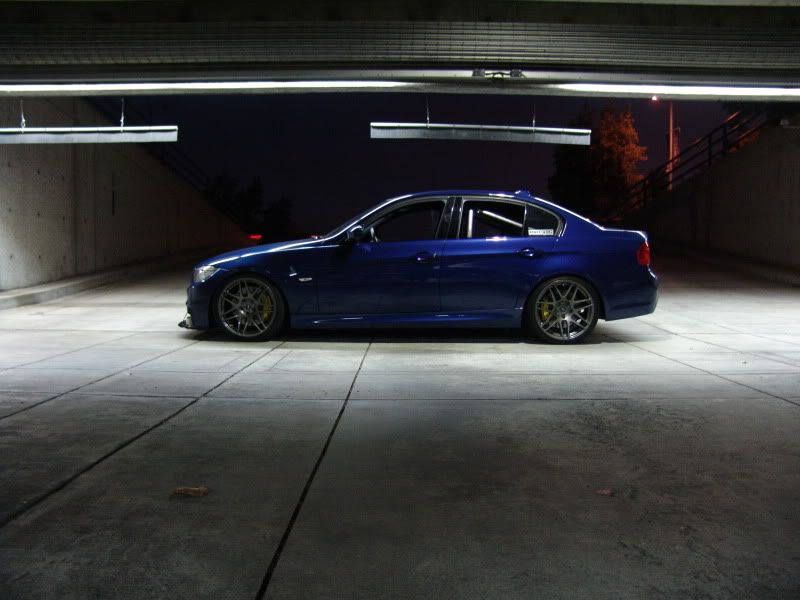 And then my DD... 109k original miles.


2010 BMW 335i
38,000 miles
Premium Package
M-Sport Package
6-Speed Manual
I-Drive
I-Pod connector
Bluetooth


Exterior
-Full M-Sport Package
Front Bumper
Side Sills
Rear Bumper
-Custom DTM rear widebody
-APR front splitter
-Custom GT3 RS style diffuser
-Evolution Racewerks Custom Rear Valence Diffuser (w/ aero fins)
-Bavarianx LS3 halos
-Black Grills
-Painted Reflectors
-Liscence Plate LEDs
-fish bowled
-Debadged
-3" Angle Tips (Gintani)
-Nokya 2k fogs

Interior/Audio
-Recaro Profi XL (w/ custom Royal Blue Alcantera inserts)
-Sparco 3" 6pt Camlock Harnesses
-Custom 4 point roll bar w/ X-piping
-IND Shifter Extension
-BMW Alcantara Shift Boot
-M-Sport Interior
Steering Wheel
Rocker Panels
Aluminum Trim
-Full LED Conversion
-Focal 100VRS
4" mid/sub & Magnesium plated tweeters
-Alumapro 10" Alchemy H20 Subwoofer
Custom CarbonFiber banpass box
-Arc Audio KS500.1 Amplifier
Custom mounting and viewing window
-JL Audio Cleansweep CL441

Wheels/Brakes/Suspension
-Forgestar F14 Powdered Black (Track) OLD SETUP
18x10 et25 w/ 275/35-18 Continental Racing Slicks
18x11 et21 w/ 305/640-18 Continental Racing Slicks
- Apex ARC8 Hyper Silver (Track and Street)
18x9.5 et25 w/ 275/35-18 Hankook RS3
18x10.5 et12 w/ 285/35-18 Hankook RS3
-Stoptech Trophy Sport BBK
(powdercoated T. Safety Yellow)
Front: ST60 (13.5" caliper w/ 355mm cross drilled rotors)
Rear: ST40 (10.5" caliper w/ 345mm cross drilled rotors)
-AST 4250 w/ Swift springs (600/900)
-Vorshlag Camber Plates
-M3 Front Control Arm Kit
-M3 Strut Tower Brace
-M3 Rear Guide Rods
-M3 Rear Rear End links
-M3 rear subframe bushings
-Hotchkins front sway
-TC Kline Racing Studs

Performance
-Vargas Stage 2 Hybrid Turbos (500whp+ getting tuned ATM)
-Spec Stg 3+ Clutch w/ LW Aluminum Flywheel
-Wavetrac 3.46 Limited Slip Differential
-Evolution Racewerks Competition Intercooler
w/ Carbon Fiber Entry Shroud
-Evolution Racewerks Competition Dual-Oil Coolers
-Evolution Racewerks Roll Bar powdercoated grey
-2.5inch Straight Pipe Exhaust
-Macht Shnell 3" Coated Downpipes
-aFe Stage 2 intake
-Snow Performance Stage 2 Methanol Injection
-Evolution Racewerks Charge Pipe
-TIAL Blow Off Valve
-BSH Oil Catch Can
-Rogue Engineering SSK (w/ IND Shifter Extension)
-CDV Delete
-HPA LSD Cooler
-APR GTC300 67" Carbon Fiber wing_a_
__________________
turb0mike