Whattsamatter, Bunky? Does your M3 shifter feel like a wooden spoon in a pot of pudding? Are you tired of having to let the clutch out just to find out what gear you're in? Sure, you've lubed the shifter. Maybe you've tried installing a fresh set of rubber shift bushings. Either way, you've probably been disappointed. Relax. We have a fix that works--and lasts. Install our durable shift arm teflon bushings and precision fit carrier pins, on sale for a limited time. Then you can go back to using the words "tight" and shifter" in the same sentence again.
Most BMW shifters lose their like-new feeling after a few years. The culprit is the cheap rubber bushing that BMW installs in the shifter arm location. Each time you move the shift lever, the shift rod moves which creates slop in your shifter.
ECS Tuning has developed a direct fit, high strength Teflon bushing as a replacement. Made from virgin Teflon rod, these bushings contain no fillers or impurities, resulting in a longer lasting replacement piece. These bushings will remove all of the side to side slop from the shifter rod, improving even the stock shifter.
Also included is a new carrier pin, which needs replaced due to the metal on metal contact when your rubber bushing fails. This new carrier provides a smooth surface for the Teflon bushings.
Kit featuring the following components,
-2 Teflon Bushing Inserts
-Carrier Pin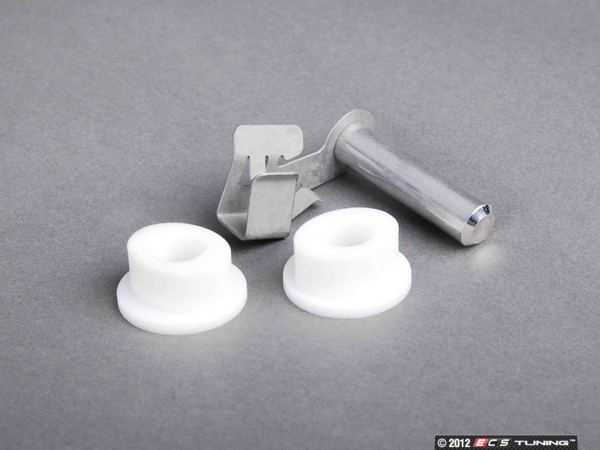 Click HERE to order today!!!!!!!!!!!!!!!!!!