Registered User
Join Date: Nov 2011
Location: East Bay Area
Posts: 296
My Ride: 2000 323it
Apex (ApexRaceParts.com) Review
---
Posted in my build thread as well, but figured this would fit in the "Feedback" section for others to benefit....



Today with my day off (thanks to the lovely State of California for my furlough day :( ), I decided to look into spacers for my touring. It is something I had been thinking about to solve the "sunkin" looking wheels...especially in the rear.

With the wife shopping, and all 3 kids in school, I make a 45 min solo trek out to a shop since their website indicated that they had spacers "in stock." I know...I should have called, but it gave me a reason to drive my car in an aggressive, yet responsible, :shhh: manner. The more I drive this car now, whether on the freeway, or in the twisties, the more satisfied I am with this setup. Comfy when needed...firms up when required. FSD/Eibach FTW.

When I get there, I realize there is no way they have very much in stock. The guy is super polite and explains they use their vendors and warehouse to store their stock from the website...and they just ship from there, not the actual store front. I, of course, am familiar with this set up and not really surprised at all...it makes total financial sense for a company to run this way. I a little bummed since I'm not walking away with spacers, but I get to drive back up 84 to Livermore, so all is not lost.

Then I think: "Hey! Apex Racing as spacers, and they are in Livermore, my home town! I wonder if THEY have any in stock?" Refusing to be sensible with my time and place a call to prevent a drive across town, I decide to pass the exit to my house and go directly to Apex. I literally have the morning to myself till I have to pick up my son at 1:30. Plenty of time.

I find it in an industrial park, park the car, and walk in. Wow, this place is legit.

Arc-8, and EC-7 with assorted suspension/brake bits on display in the waiting area: check.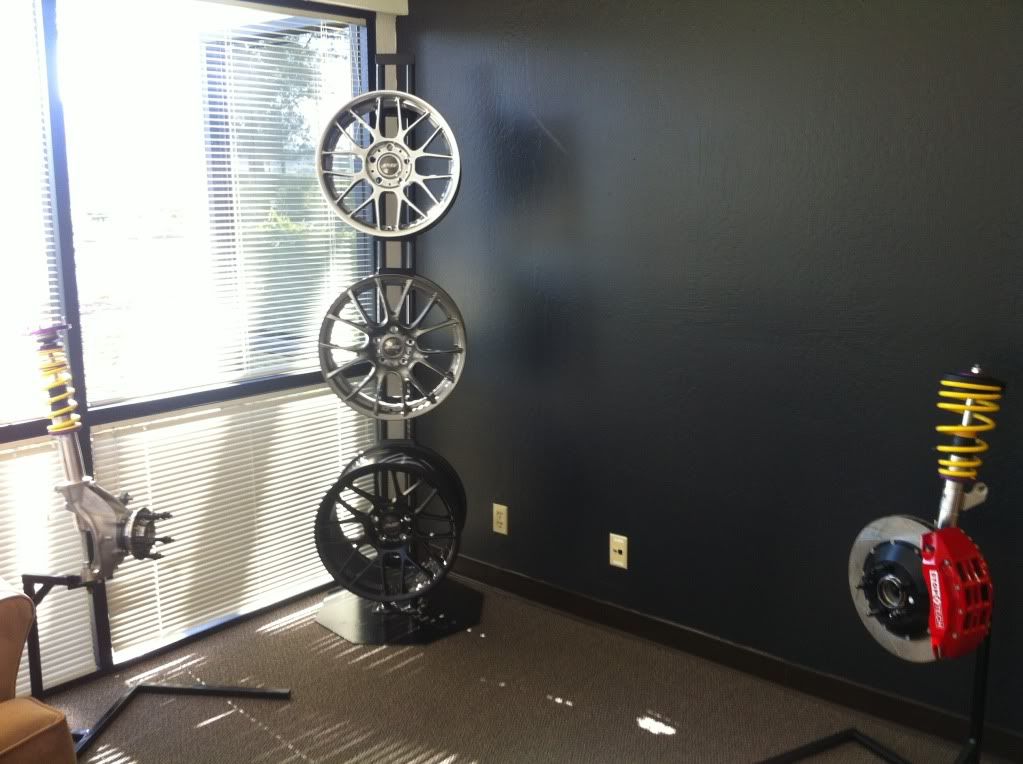 M3 E30 Racecar in the middle of the offices (notice the drum kit in the back): check.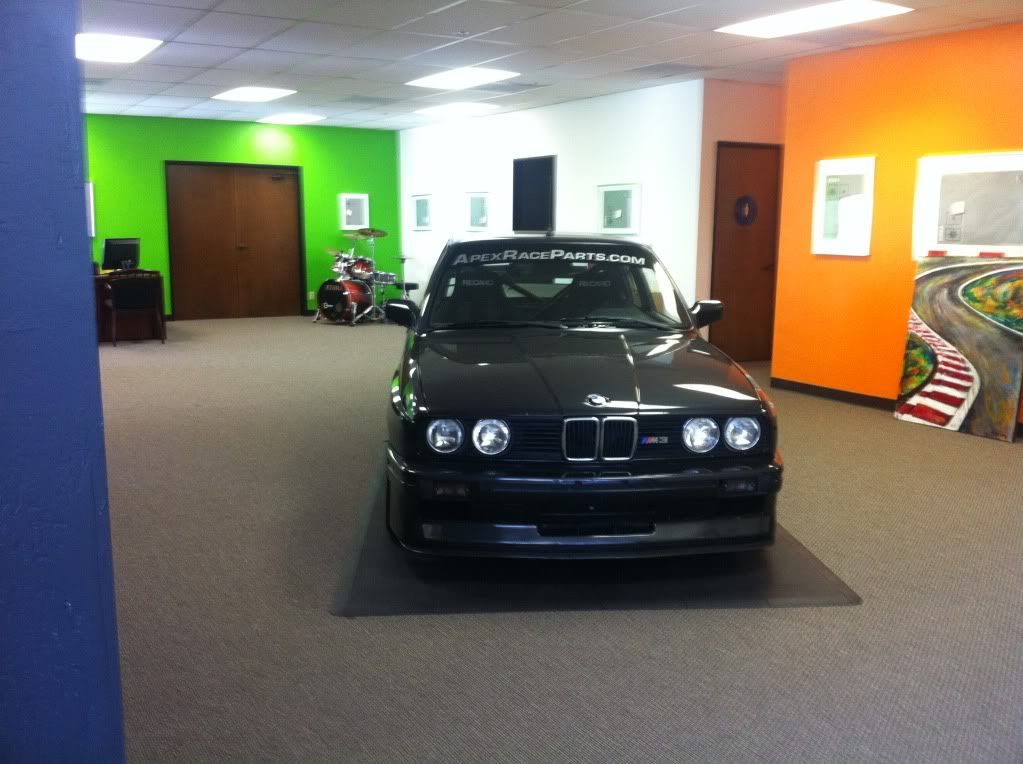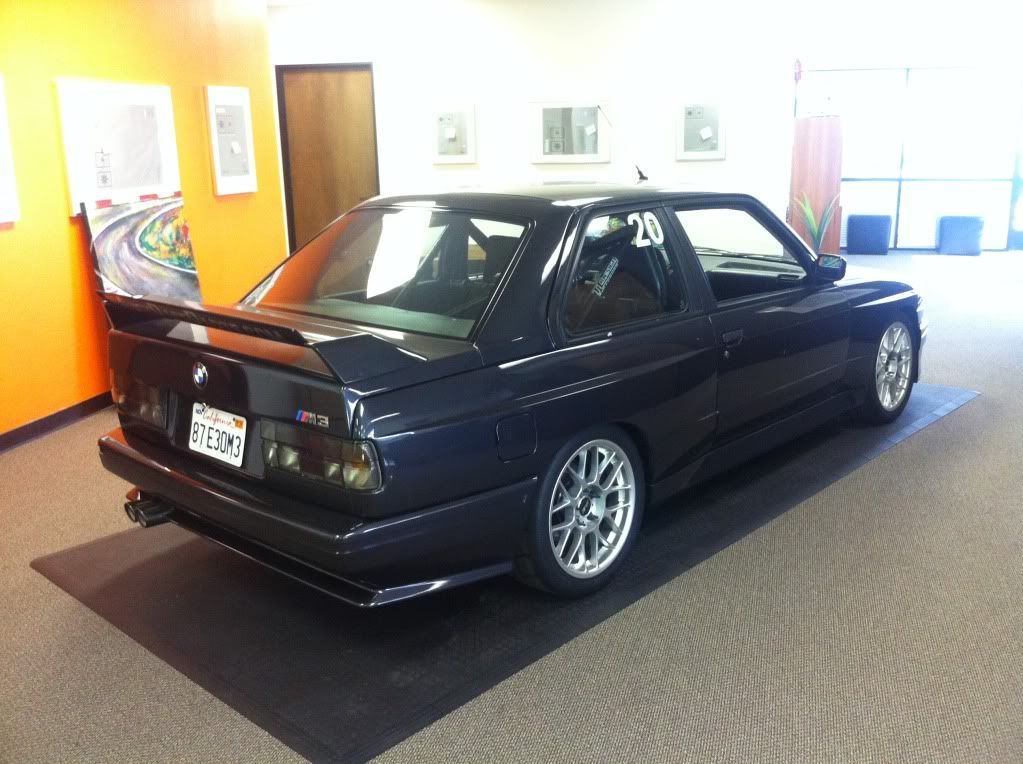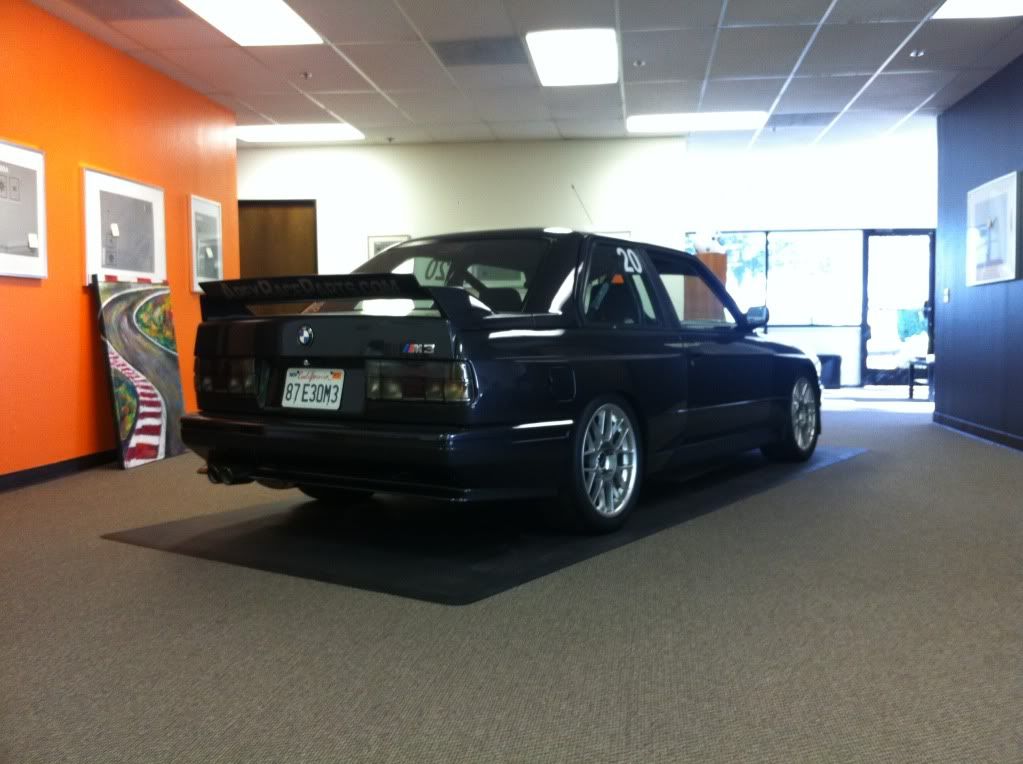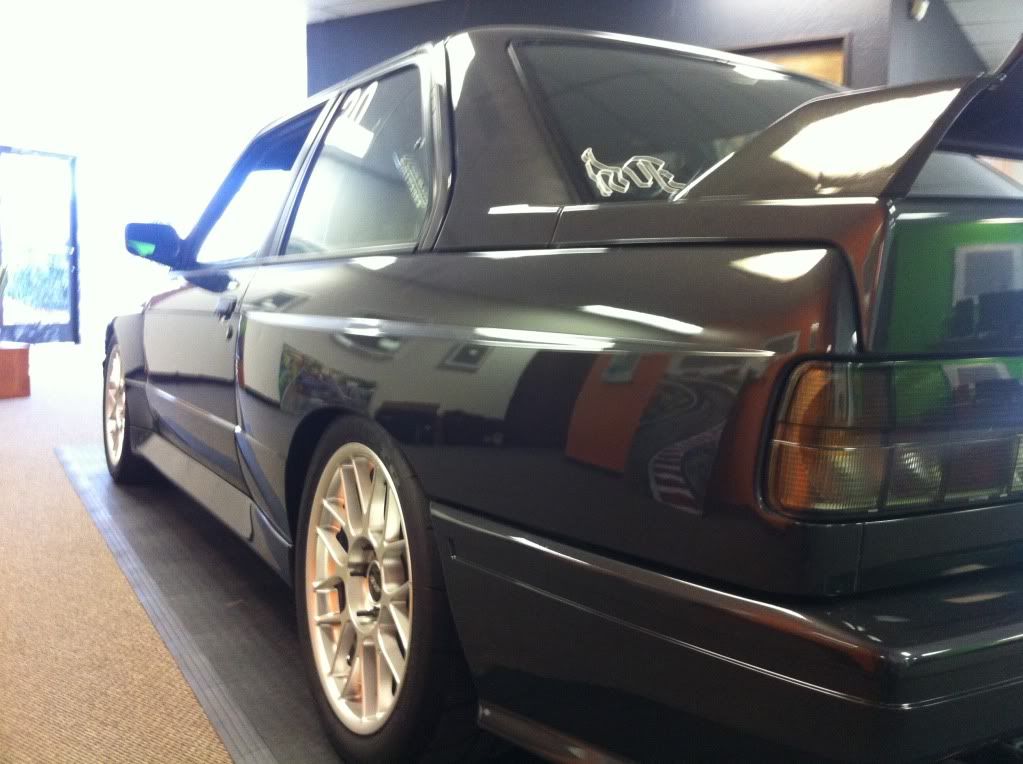 I work my way in and am greeted by Joe who was working on something else at his desk. I tell him I'm looking for some spacers for a bmw and ask if they have any in stock. He gives me a funny look and says, "Yes. We do have them in stock. What size are you looking for?" I tell him I have an idea, but ask if he would be willing take a look at my car in the parking lot and give me his opinion. He agrees and we are out measuring fender space and talking about my conservative intentions (still a family car) and that I don't want to have to roll fenders or what not. Then he goes "Hey why don't you just pull in to the warehouse and we can do some test fitting?"

What!? This is customer service! :clap: I never have even heard of shops test fitting spacers on customer cars. Especially a place like this where I'm sure they have other things going on. I figured it was a "buyer beware" and know what you need BEFORE you order. So stoked. I'm so buying from these guys.

I pull in to the warehouse, passed a race prepped miata, another M3 E30, and M3 E36 a few guys were working on




And pull up next to their e36 they are prepping for a 25 hour race at Thunderhill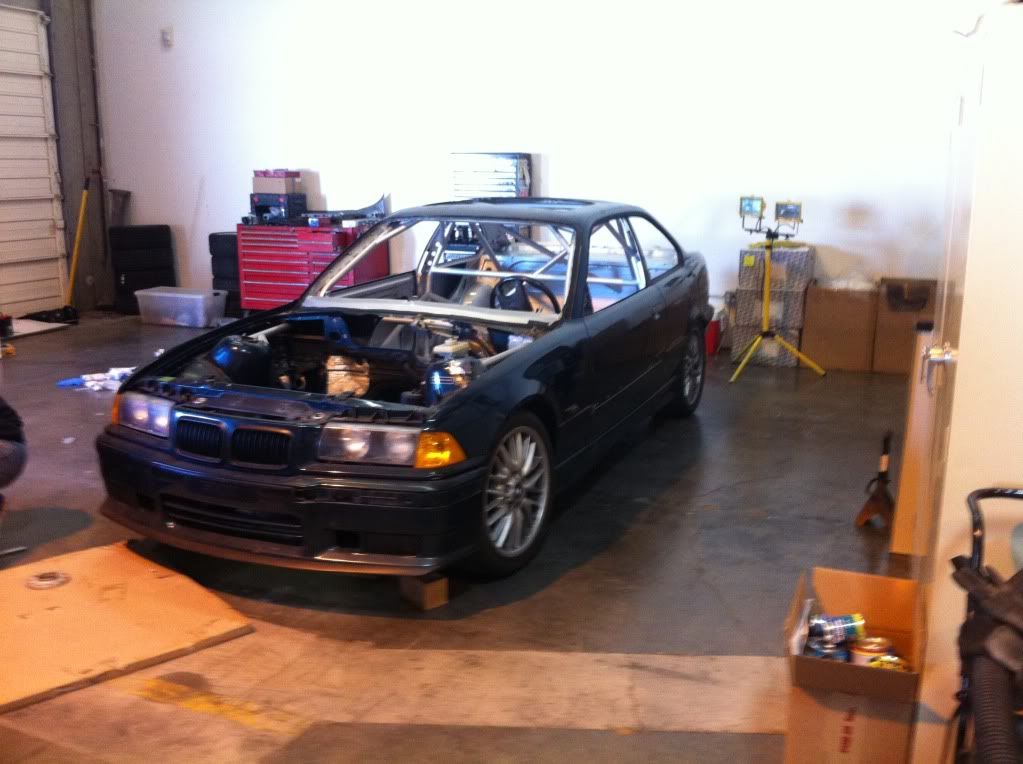 I'm all kinds of impressed. I meet a couple of other people who were busy working on the cars who where courteous enough to say hey and come over and check out my car. Joe spends the better part of 45 min taking my FILTHY wheels on and off and checking clearances. I'm in utter amazement at the service I'm getting. I'm so buying from these guys.

I also quietly drool over the fields of Arc 8's and EC7's



Back to the fitting,
Fronts end up looking good and safe with 12mm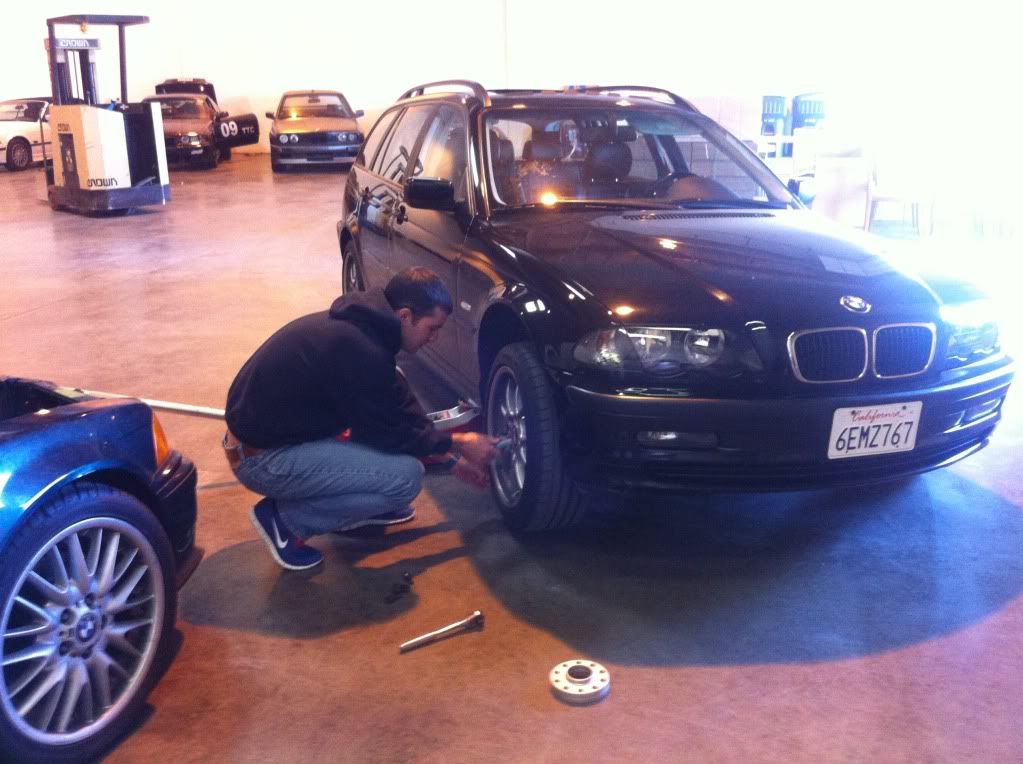 Rears we agree on 15mm work nicely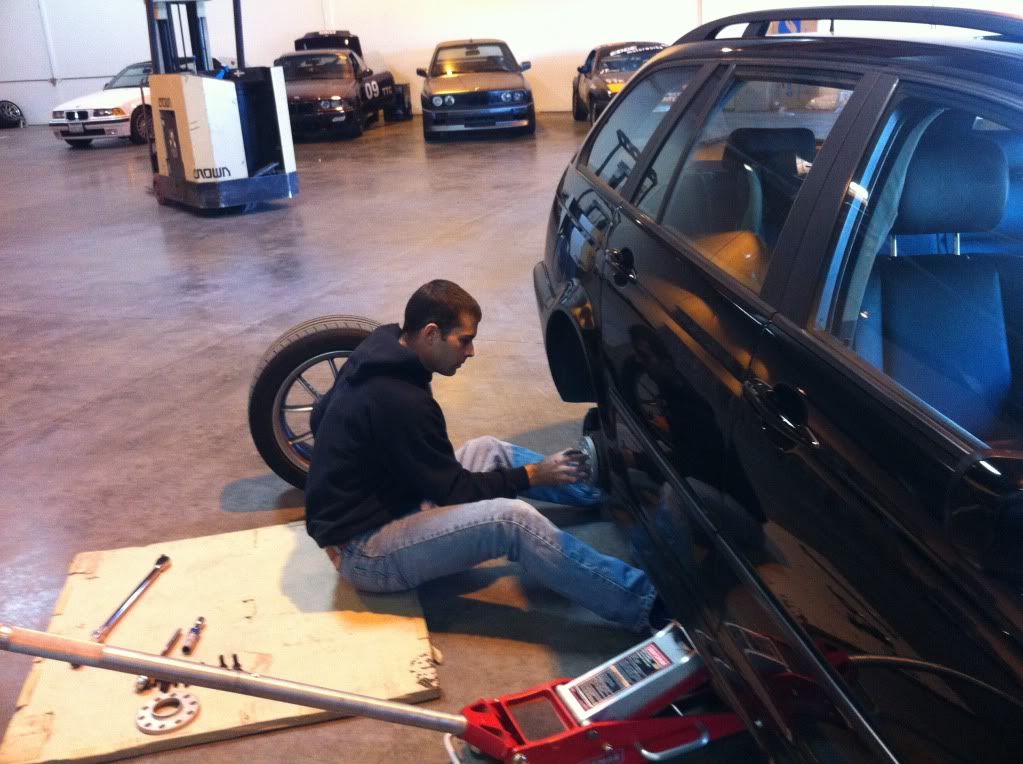 Joe puts everything back to stock, torques my wheels to spec and asks what I think. Zero pressure to buy. He was just happy to help. I don't even think about the cost or how much I could save by going online. I am soo buying from these guys.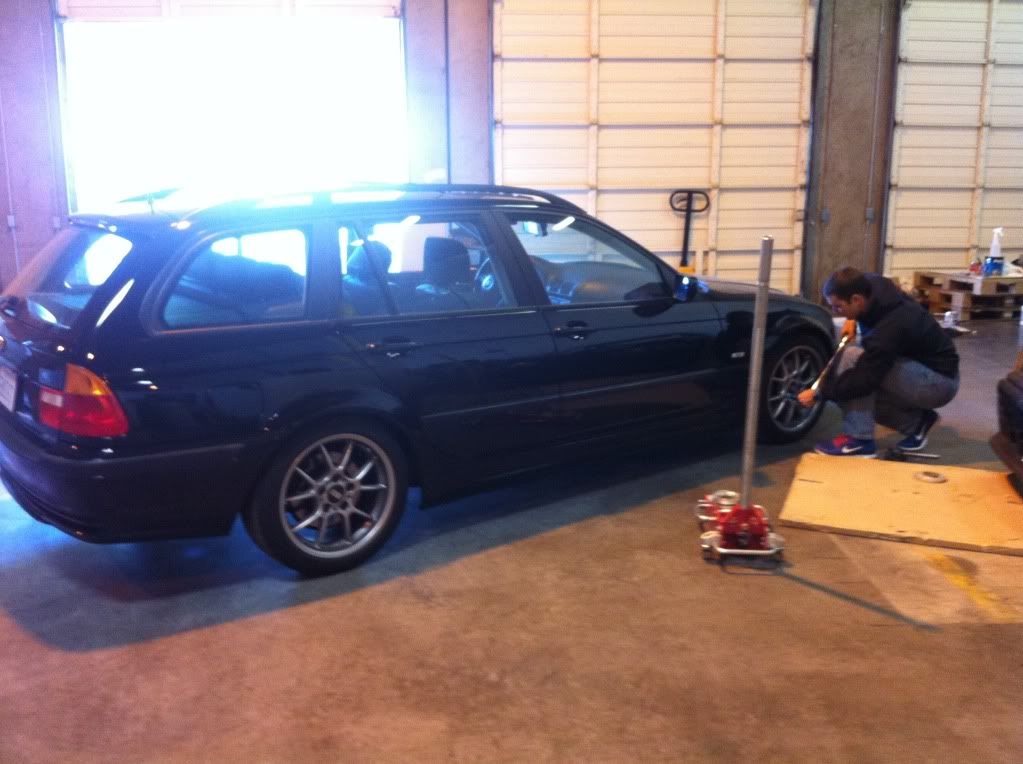 It just happens to be the exact time for me do go when he finishes up. We go back into the office, and after a card transaction and a handshake, I am on my way to pick up my son with spacers and bolts aching to get between my hubs and wheels! Yes, I bought from these guys.


I am satisfied: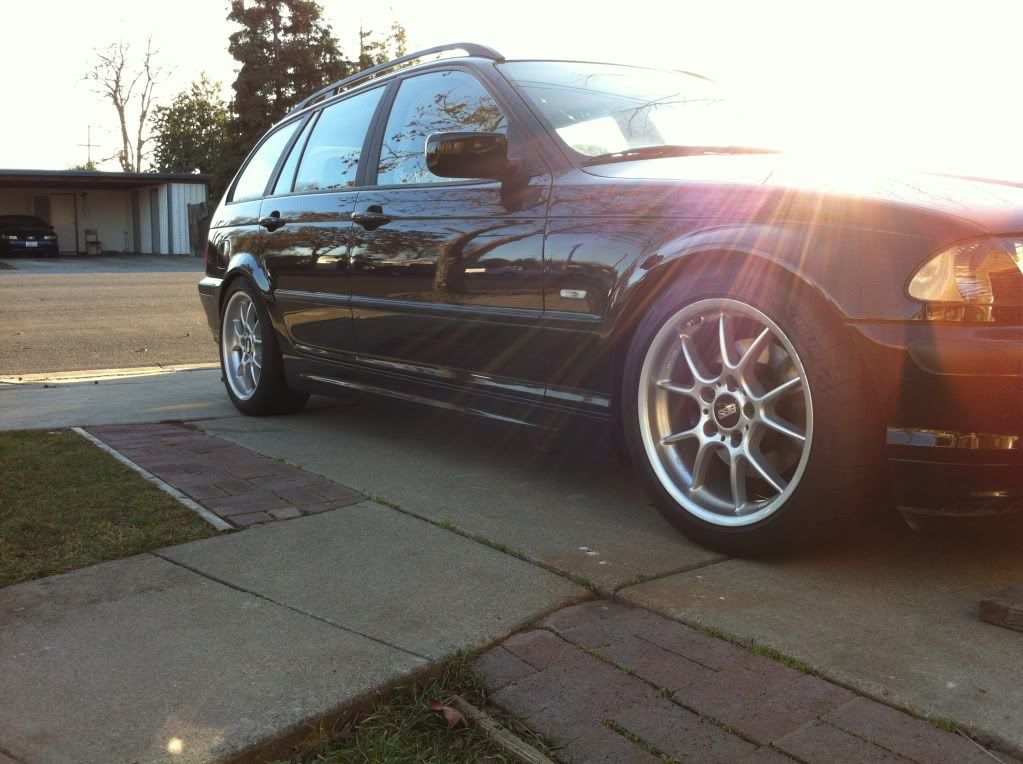 Apex Racing in Livermore is a PHENOMENAL business that GETS customer service. There are only a handful of businesses that I have experienced are excellent in this regard, and now I will say that Apex is part of that group. Could I have gotten a better deal online? Sure. But, with the experince I had, I will continue to patron this business and encourage others to do the same. I highly recommend buying from them, either online, on the phone, or at the store...but rest assured, if you talk to Joe or one of the other guys, or even visit the showroom, you WILL have excellent customer service. Period.
---
Last edited by drumsauce; 01-21-2013 at

10:40 PM

.